Event
Käsityöaiheinen lukupiiri
Ota oma käsityösi mukaan ja tule keskustelemaan käsityön merkityksestä, niin itsellesi kuin kirjan hahmoille.
Suomen käsityön museon käsityöaiheisissa lukupiireissä sukelletaan kirjoihin, joissa käsityöllä on oma roolinsa tarinan kerronnassa. Lukupiiri kokoontuu kerran kuussa tiistaisin klo 17-19, ja niihin ovat kaikki tervetulleita, mutta muistathan ilmoittautua tapahtumiin ennakkoon.
Lukupiirien aiheet:
ti 29.9. Victoria Hislop: Elämänlanka (2014)
ti 20.10. Antti Hyry: Uuni (2009)
ti 24.11. Essi Renvall: Nyrkit Savessa (1971)

Muistathan ilmoittautua tapahtumaan ennakkoon verkossa: www.lyyti.in/­SKMtapahtumat2020
Koronatilanteen takia Suomen käsityön museon tapahtumiin otetaan osallistujia rajoitetusti, jotta voimme ylläpitää turvavälejä. Jos tulet tapahtumaan ilman ennakkoilmoittautumista emme voi taata osallistumismahdollisuutta. Keräämme myös yhteystiedot paikan päällä niiltä osallistujilta, jotka eivät ole ilmoittautuneet ennakkoon.
Share this with your friends!

Print version
Museum exhibitions
Museum events
Edut
Osana kulttuurikierrosta
Museum contact details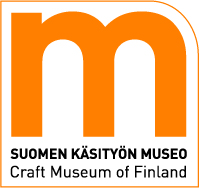 The Craft Museum of Finland
Kauppakatu 25, 40100 Jyväskylä
(014) 266 4370
Admission fees
8/6/4/0 €
Payment methods
Visa, Mastercard, Museokortti, Smartum liikunta- ja kulttuuriseteli ja -saldokortti, Sportti&KulttuuriPassi, Tyky-kuntoseteli sekä Ticket Mind&Body ja Ticket Duo -kortti.