MUSEUM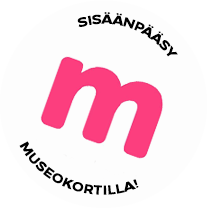 LUOMUS Kaisaniemi botanic garden
Kaisaniemi Botanic Garden introduces an eclectic and fascinating collection of living plants.
The outdoor garden in Kaisaniemi Botanic Garden attracts the visitor to experience the world of plants. In summertime, perhaps the most attractive part of the grounds is the sensory garden central garden together with the evolution garden, an open area with ponds and flowers. The glasshouses of the Kaisaniemi Botanic Garden bring a tropical breeze into the routines of the week all year round.
Share this with your friends!

Print version
Voit ostaa Museokortin tästä museokohteesta tai verkosta
Museum contact details
LUOMUS Kaisaniemi botanic garden
Kaisaniemenranta 2, 00170 Helsinki

02941 24455

Admission fees
10/8/5/0
Payment methods
käteinen, pankkikortti (Debit), luottokortti (VISA ja MasterCard), VisaElectron, Smartum VISA, Smartum 5 € kulttuuri- ja liikuntaseteli, lasku (laskutuslisä 8 €).
Opening hours
Valtioneuvoston päätöksen mukaisesti valtion ja kuntien museot ovat suljettuina 13. huhtikuuta saakka. Yksityisen ja kolmannen sektorin toimijoiden suositellaan toimivan samoin.
Guided tours
Book a guided tour: http://www.luomus.fi/en/tours
Themes
Keywords
Kaisaniemi Botanic Garden
,
botany
,
garden
,
kaisaniemi garden
,
LUOMUS
,
Finnish Museum of Natural History
,
University of Helsinki
,
plant
,
plants
,
flower
,
flowers
,
perennial
,
tree
,
trees
,
wood
,
arboretum
,
water lily
,
lichen
,
moss
,
19th century
,
20th century
,
21st century