Exhibition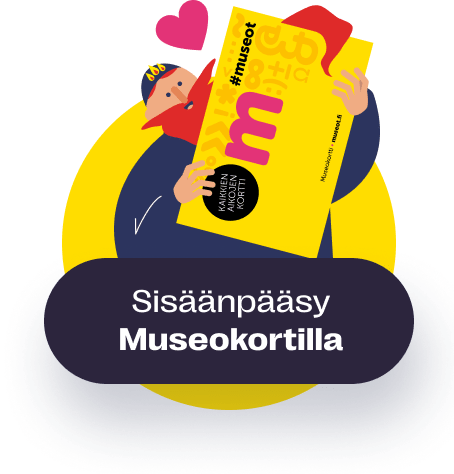 Hyäryllistä: Everything Useful
The artist group Hyäryllistä engages in collective thought and plays in their works with forms, materials and images to achieve humorous, quirky takes on reality.
This retrospective exhibition looks at the group's artistic work from the 1990s to this day.
30 years of collective thinking
Hyäryllistä have been working together for an impressive 30 years. The group members Jouko Korkeasaari, Sari Koski-Vähälä, Heli Kurunsaari and Harri Lukkari met at the Liminka School of Arts in North Ostrobothnia in the early 1990s. Harri Lukkari was involved in the group until 2008. For many years, the group members lived and worked in Turku, where they also shared a workroom on Aninkaistenkatu between 1997 and 2004; it was known as Studio Hyäryllistä. The studio functioned both as a work space and alternative exhibition space. During their shared journey, the artists have made it their principle to make by hand and keep the work process slow. Their works merge the joy of thinking and doing together, and in contrast also blend in comments on the ever-accelerating rate of consumption. Through their work, Hyäryllistä addresses the foolishness of excess and consumerism and how we without question accept frivolous consumption as a part of life. The name of the group refers to the Finnish word for useful and parodies the usefulness of making and producing things.
From painting to spatial art
At the start of their artistic practice all group members had painting as medium, but later on the group has worked with video and collages as well as collections of objects and items. All the members also work as individual artists, and the objective of their shared work is to combine their individual styles seamless to make coherent entities. The group members' different perspectives and strengths come together organically in their cooperative pieces. The materials of existing works are often reused as a base for new pieces, creating a cycle of reuse and bringing forth a rebirth of the works. Today, Hyäryllistä mostly creates spatial installations where everyday materials and objects are linked together in various ways to become something entirely different – often quite humorous.
WAM is open Tue, Fri-Sun 10am-5pm, Wed-Thu 11am-8pm.
Share this with your friends!

Print version
Museum contact details

WAM
Itäinen Rantakatu 38, Turku
(02) 262 0850
Admission fees
10/5/4 €


Payment methods
Yleisimmät pankki- ja luottokortit. Smartum-, TYKY- ja Virike-kulttuurisetelit, SmartumPay ja ePassi.

Huom. käteismaksua ei toistaiseksi oteta vastaan.
Opening hours
| | |
| --- | --- |
| Mon | Closed |
| Tue | 10:00-17:00 |
| Wed | 11:00-20:00 |
| Thu | 11:00-20:00 |
| Fri | 10:00-17:00 |
| Sat | 10:00-17:00 |
| Sun | 10:00-17:00 |
Closed 10.4., 1.5., 19.–21.6., 6.12., 24.–25.12., 31.12.–1.1. Open 30.4. and 18.6. 10:00–15:00.