Exhibition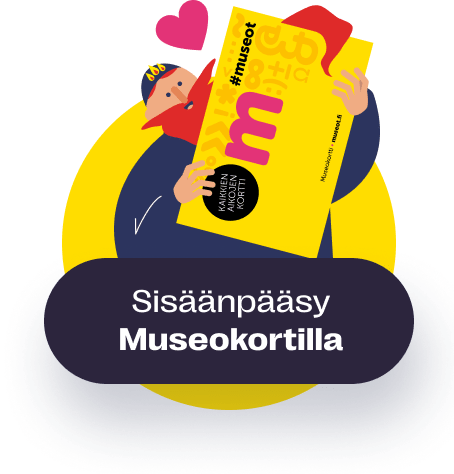 Minkä mitäkin Aholasta
Aholan perusnäyttely esittelee kirjailija Juhani Ahon ja taiteilija Venny Soldan-Brofeldtin työtä ja elämää Järvenpäässä.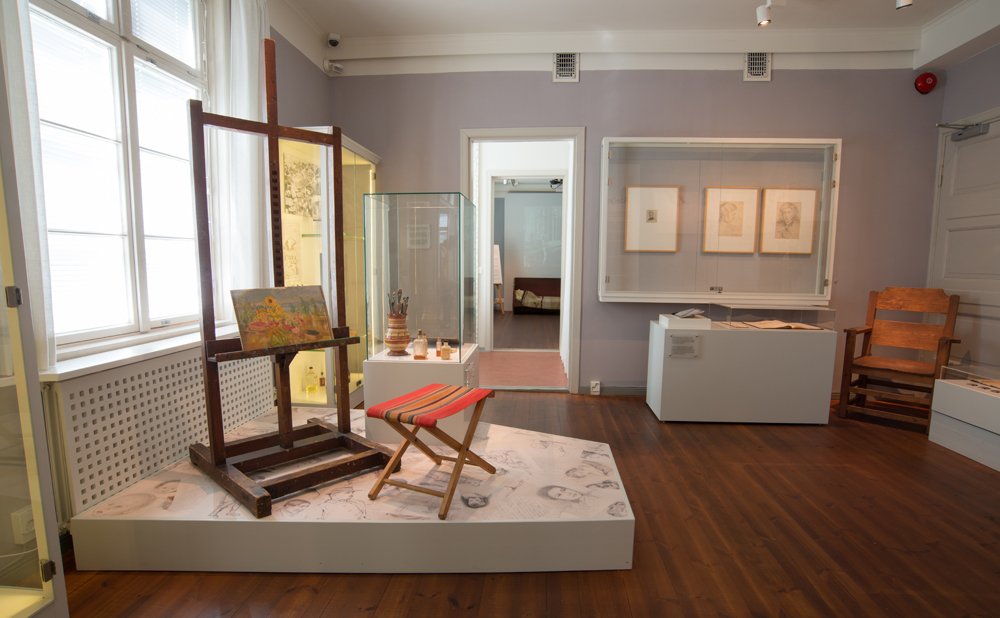 Suomalaisittain ainutlaatuinen Tuusulanjärven taitelijayhteisö sai alkunsa marraskuussa 1897, jolloin kirjailija Juhani Aho ja hänen puolisonsa taidemaalari Venny Soldan-Brofeldt muuttivat Tuusulanjärven rannall huvilaan, jonka nimeksi sittemmin vakiintui Ahola. Ahot asuivat huvilassa 14 vuotta ja houkuttelivat tänä aikana Järvenpäähän joukon ajan merkittävimpiä taiteilijoita, kuten Eero Järnefeltin, Jean Sibeliuksen ja Pekka Halosen perheineen. Elämä Aholassa oli värikästä, taiteentäyteistä ja sitä väritti myös perheen sisäinen kolmiodraama.
Aholan perusnäyttelyssä Minkä mitäkin Aholasta kansalliskirjailija Aho paljastuu reippaaksi ulkoilmaihmiseksi, jonka jäljiltä huoneisiin on unohtunut kalastusvälineitä, retkillä selässä roikkunut tuohikontti sekä sukset. Venny Soldan-Brofeldt oli kuvataiteilija, joka vaikutti myös taidekasvatuksen sekä naisasialiikkeen parissa. Taitava piirtäjä pystyi hetkessä vangitsemaan paperille oivaltavia tuokiokuvia, kuten luonnoskirjoista ja seinille kiinnitetyistä lasten kuvista käy ilmi.
Esillä on myös perheen äidin hektisen arjen keskellä syntyneitä kirjankuvituksia, ystävien muotokuvapiirroksia sekä ateljeen kätköissä myöhemmin syntyneitä pienoisveistoksia ja koruja. Elämä Tuusulanjärven rannalla oli yhteisöllistä ja lapset leikkivät usein yhdessä Aholassa. Yläkerran toimintatilassa onkin lasten mahdollista tehdä huoneteatteria Aholan tapaan omalla pikku näyttämöllä.
Näyttely tarjoaa kävijälle elämyksiä ja miellyttävät puitteet erilaisia esityskeinoja monipuolisesti hyödyntäen. Äänimaailmojen, filmiesitysten ja draamaopastusten avulla Ahon kirjallisuus saadaan puhumaan ja Soldan-Brofeldtin taide näkyväksi. Vierailun päätteeksi voi virkistyä kahvikupposen äärellä ja hankkia pienen muiston museokaupasta.
Share this with your friends!
Museum exhibitions
Osana kulttuurikierrosta
Museum contact details
Ahola
Sibeliuksenväylä 57, 04400 Järvenpää
Aukioloaikoina 040 315 2213
Admission fees
7/6/4 €
Payment methods
Käteinen ja yleisimmät pankki- ja luottokortit. Laskutus ryhmille mahdollinen.
Opening hours
| | |
| --- | --- |
| Mon | Closed |
| Tue | Closed |
| Wed | 10:00-17:00 |
| Thu | 10:00-17:00 |
| Fri | 10:00-17:00 |
| Sat | 10:00-17:00 |
| Sun | 10:00-17:00 |
Ahola is open during summer season from May to September.