15.5.2019–19.5.2019 NÄYTTELY/TAPAHTUMA PÄÄTTYNYT

Valokuvaaja, näyttelijä Laura Malmivaara tutustui Suomen Lähetysseuran kehitysyhteistyöhön Tansanian Kishapussa syyskuussa 2018. Malmivaara kuvasi matkan aikana alueen kylissä kohtaamiaan tyttöjä ja naisia. Tuloksena syntyi muotokuvista koostuva valokuvanäyttely Kuivuudessa kasvaa toivo.
Tansaniassa Shinyangan läänissä sijaitseva Kishapu kärsii kuivuudesta, jota ovat pahentaneet ilmastonmuutoksesta johtuvat ennustamattomat sateet. Kuivuus vaikeuttaa ihmisten toimeentuloa, ruuantuotantoa ja veden saantia jo entisestään köyhällä alueella. Koska naiset ja tytöt ovat usein vastuussa ruuantuotannosta ja veden hakemisesta, vaikuttaa ilmastonmuutos erityisesti heihin.
Lähetysseura tukee Kishapun kyläyhteisöjen sopeutumista muuttuvaan ilmastoon mm. tukemalla puiden istutusta, kouluttamalla kyläläisiä kuivuutta kestävien lajikkeiden viljelyssä ja pienyrittäjyystaidoissa sekä parantamalla vesi-ja sanitaatiojärjestelmiä. Työllä tuetaan erityisesti naisia ja nuoria. Lähetysseuran kehitysyhteistyötä rahoittaa Suomen ulkoministeriö.
Malmivaara kertoo kuvistaan lauantaina 18.5. klo 10.30-11.30 järjestettävässä Ilmastonmuutos – Pelastuuko maailma -tilaisuudessa Jyväskylän yliopiston päärakennuksen juhlasalissa. Tilaisuus on osa Jyväskylässä järjestettävien Lähetysjuhlien ja Kirkkopäivien ohjelmaa.
Share this with your friends!

Print version
Voit ostaa Museokortin tästä museokohteesta tai verkosta
Museum contact details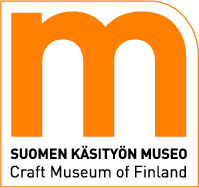 The Craft Museum of Finland
Kauppakatu 25, 40100 Jyväskylä
(014) 266 4370
Admission fees
6/3/0 €
Payment methods
visa, mastercard, museokortti, Smartum liikunta- ja kulttuuriseteli ja -saldokortti, Sportti&KulttuuriPassi, Tyky-kuntoseteli sekä Ticket Mind&Body ja Ticket Duo -kortti.
Opening hours
| | |
| --- | --- |
| Mon | Closed |
| Tue | 11:00-18:00 |
| Wed | 11:00-18:00 |
| Thu | 11:00-18:00 |
| Fri | 11:00-18:00 |
| Sat | 11:00-18:00 |
| Sun | 11:00-18:00 |
Free entry on Fridays. During summer 1.6.-31.8. Open Tue-Fri and Sun 11-18, Sat 11-16. Exceptions in opening times during the holidays. Further information about opening hours is available at: www.craftmuseum.fi/aukiolo.htm#poikkeavat_aukioloajat