28.3.2019 (17.30-19.00)

Voit ostaa Museokortin tästä museokohteesta tai verkosta
Cerámica-näyttelyyn liittyy kevään aikana kaksi luentoa. Toisella luennolla antropologi Paula Blomster johdattelee meidät nicaragualaisen keramiikan maailmaan.
Cerámica-näyttelyn nicaragualainen keramiikka tulee yhdestä kylästä. San Juan de Orienten kylässä 95% asukkaista saa elantonsa keramiikasta, miten se on mahdollista ja mikä tekee tämän kylän keramiikasta niin ainutlaatuista?
Luento on kaikille maksuton.
Share this with your friends!

Print version
Museum contact details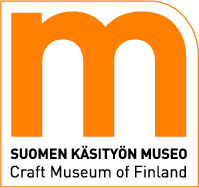 The Craft Museum of Finland
Kauppakatu 25, 40100 Jyväskylä
(014) 266 4370
Admission fees
6/3/0 €
Payment methods
visa, mastercard, museokortti, Smartum liikunta- ja kulttuuriseteli ja -saldokortti, Sportti&KulttuuriPassi, Tyky-kuntoseteli sekä Ticket Mind&Body ja Ticket Duo -kortti.