1.2.2019 (11-15) NÄYTTELY/TAPAHTUMA PÄÄTTYNYT

Voit ostaa Museokortin tästä museokohteesta tai verkosta
Pohjoismainen kansallispukuseminaari järjestettiin Tanskassa 6.–10.8.2018. Seminaarissa keskustelluista ja esitellyistä asioista järjestetään luentotilaisuus Neuleita kansan- ja kansallispuvuissa Suomen käsityön museossa perjantaina 1.2. klo 11–15. Luennoille on vapaa pääsy.
Tapahtuma sisältää kolme luentoa kansallispuvuista. Maria Linden Brages dräktbyråsta kertoo luennollaan klo 11–12 Pohjoismaisesta kansallispukuseminaarista runsaan kuvamateriaalin saattelemana, joten myös he, jotka eivät päässeet paikalle Tanskaan elokuussa, kuulevat uusimpia tietoja kansan- ja kansallispukujen neuleista.
Marjo Vainion luennolla Päästä varpaisiin klo 12.30–13.30 tutustutaan neulottuihin vaatekappaleisiin suomalaisissa kansallispuvuissa. Luennolla pääsee kurkistamaan neulomusten, kuten sukkien, käsineiden ja päähineiden esikuviin, jotka on tallennettu mm. Kansallismuseon kokoelmiin sekä tietenkin Vainion niistä neulomiin uusintoihin.
Marketta Luutosen luento Koreaa virkkaamalla klo 13.30–14.30 kertoo virkkauksen ja kirjovirkkauksen historiasta ja esiintymisestä maassamme sekä virkatuista tekstiileistä merkityksenkantajina.
Tapahtuman lopuksi Suomen kansallispukukeskuksen kansallispukukonsultti Taina Kangas kertoo ajankohtaiset kuulumiset Suomen kansallispukukeskuksesta.
Luennoille ovat tervetulleita kaikki kansallispuvuista kiinnostuneet. Luennot järjestetään Suomen käsityön museon luentosalissa, jonne mahtuu noin 65 henkeä. Luennolle osallistujia pyydetään saapumaan paikalle hyvissä ajoin, heti museon avauduttua klo 11.

Share this with your friends!

Print version
Museum contact details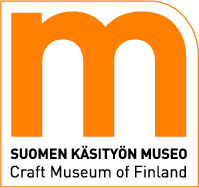 The Craft Museum of Finland
Kauppakatu 25, 40100 Jyväskylä
(014) 266 4370
Admission fees
6/3/0 €
Payment methods
visa, mastercard, museokortti, Smartum liikunta- ja kulttuuriseteli ja -saldokortti, Sportti&KulttuuriPassi, Tyky-kuntoseteli sekä Ticket Mind&Body ja Ticket Duo -kortti.