18.5.2019–8.12.2019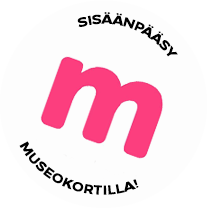 Exhibition
Keramiikan toinen luonto 18.5.–8.12.2019
Ville Heimala · Katri-Maria Huhtakallio · Aura Kajas · Tiia Matikainen · Lotta Mattila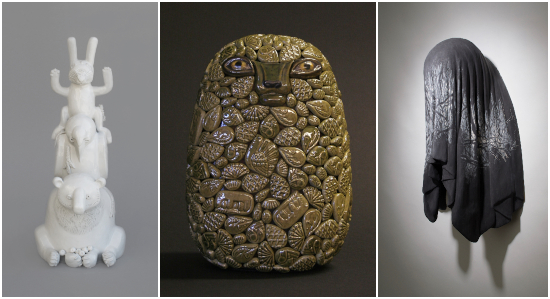 Suomalainen luontosuhde sulautuu osaksi veistosmaista keramiikkaa Suomen käsityön museon näyttelyssä.
Ihmisillä on suuri halu vertailla ominaisuuksiamme ja luonteenpiirteitämme eläimiin. Keramiikan toinen luonto -näyttelyn viisi kuvanveistäjää tuovat esiin henkilökohtaista suhdettaan luontoon ja taiteen tekemiseen sekä kertovat ajatuksistaan teostensa takana. He havainnoivat ympäröivää luontoa ja tulkitsevat sitä veistosmaisesti keramiikan kautta.
Luonnosta saa alkunsa monet myytit, tarinat ja sadut, jotka ovat myöhemminkin vaikuttaneet ihmisten luontosuhteen kehittymiseen. Ville Heimalan, Katri-Maria Huhtakallion, Aura Kajaksen, Tiia Matikaisen ja Lotta Mattilan käsissä raaka materiaali muokkautuu luonnon loputtomien muotojen ja tekstuurien inspiroimana sekä tarinoiden ja uskomusten kyllästämänä henkilökohtaisiksi tulkinnoiksi eri lajien kohtaamisista. Ennen kaikkea toinen luonto kertoo näkyvän luonnon lisäksi myös sen toisesta, piilossa olevasta ja mystisestä puolesta – siitä, jonka taiteilija ajatustensa ja tuntemustensa kautta tekee näkyväksi taiteen keinoin.
"Myös monilla elottomilla asioilla ja ilmiöillä on tulkittu olevan persoonallisuus tai sielu, jolloin elollisen ja elottoman raja ei enää olekaan niin selkeä. Etenkin tavallisuudesta poikkeavat olennot ja ilmiöt on koettu yliluonnollista, tuonpuoleista voimaa sisältäviksi", kertoo kuvanveistäjä Ville Heimala tulevasta näyttelystä.
Moni yhdistää keramiikan käyttökeramiikkaan, jonka vuoksi Keramiikan toinen luonto -näyttelyssä halutaan näyttää, kuinka keramiikka taipuu myös taiteellisen ilmaisun välineeksi kuvanveistossa. Tarinallisuus, ihmisyyden olemus, kansanusko ja symboliikka vaikuttavat yhdessä ympäröivän luonnon kanssa taiteeseen. Tuloksena on teoksia, joiden kirjo kuvastaa suomalaisten omaa monimuotoista luontosuhdetta, kaikkea luonnon kauneudesta sen makaaberimpaan olemukseen.

Share this with your friends!

Print version
Voit ostaa Museokortin tästä museokohteesta tai verkosta
Museum contact details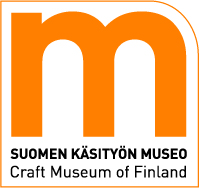 The Craft Museum of Finland
Kauppakatu 25, 40100 Jyväskylä
(014) 266 4370
Admission fees
6/3/0 €
Payment methods
visa, mastercard, museokortti, Smartum liikunta- ja kulttuuriseteli ja -saldokortti, Sportti&KulttuuriPassi, Tyky-kuntoseteli sekä Ticket Mind&Body ja Ticket Duo -kortti.
Opening hours
| | |
| --- | --- |
| Mon | Closed |
| Tue | 11:00-18:00 |
| Wed | 11:00-18:00 |
| Thu | 11:00-18:00 |
| Fri | 11:00-18:00 |
| Sat | 11:00-18:00 |
| Sun | 11:00-18:00 |
Free entry on Fridays. During summer 1.6.-31.8. Open Tue-Fri and Sun 11-18, Sat 11-16. Exceptions in opening times during the holidays. Further information about opening hours is available at: www.craftmuseum.fi/aukiolo.htm#poikkeavat_aukioloajat
Näyttelyn tekstit kielillä