17.9.2019–8.12.2019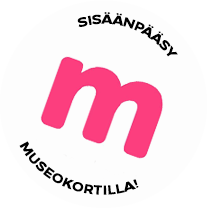 Exhibition
Taide pitkä, elämä lyhyt – Halosenniemen museo 70 vuotta
Näyttely juhlistaa Tuusulan museon 70-vuotista taivalta, joka alkoi kun Tuusulan kunta osti Halosenniemen perikunnalta vuonna 1949.
Halosenniemessä Suomen taiteen kultakausi on autenttisesti läsnä. Oma koti karunkauniilla kallioniemellä oli Pekka Haloselle ehtymätön inspiraation lähde. Halonen asui perheineen ateljeekodissaan Tuusulanjärven rannalla sen valmistuttua vuonna 1902 elämänsä loppuun asti. Nykyisin Halosenniemi on taiteilijakotimuseo, joka keskittyy asiantuntijana Pekka Halosen elämän ja taiteen tallennus-, tutkimus- ja näyttelytoimintaan. Näyttelyssä on esillä Halosen ja hänen aikalaistensa mestarillista teoksia vuosien varrelta. Mukana on valokuvia taiteilijaperheen elämästä ja Halosenniemen vaiheista.
Share this with your friends!

Print version
Voit ostaa Museokortin tästä museokohteesta tai verkosta
Museum contact details

The Halosenniemi Museum
Halosenniementie 4-6, 04310 Tuusula
040 314 3466, 040 314 3469
Admission fees
8/6/2 €
Payment methods
käteinen, yleisimmät pankki- ja luottokortit.
Opening hours
| | |
| --- | --- |
| Mon | Closed |
| Tue | 12:00-17:00 |
| Wed | 12:00-17:00 |
| Thu | 12:00-17:00 |
| Fri | 12:00-17:00 |
| Sat | 12:00-17:00 |
| Sun | 12:00-17:00 |
In summer 1.5.-31.8. Mon-Sun 11-18
Näyttelyn tekstit kielillä