The Halosenniemi Museum, Tuusula Museum
22.1.2019–5.5.2019 NÄYTTELY/TAPAHTUMA PÄÄTTYNYT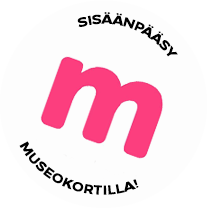 Exhibition
Pyhät on pihlajat pihalla
Pekka Halosen maisemamaalauksia, erityisesti pihlaja-aiheisia teoksia.
Pekka Halonen (1865–1933), Suomen kultakauden keskeinen taiteilija, on tunnettu ennen kaikkea suomalaisen luonnon kuvaajana. Luonto edusti Haloselle jotain ikuista ja pyhää – pysyvyyttä muuttuvassa maailmassa. Useista Halosen maalauksista voi tunnistaa pihlajan keväisessä kukkaloistossa tai pihlajanmarjoista, jotka syksyllä hehkuvat punaisina terttuina ja talvella muodostavat notkuvilla oksilla luonnonornamentiikkaa. Pihlaja on perinteisesti ollut suomalaisten pyhä puu. Sen uskottiin suojelevan ja tuovan hyvää onnea talolle pihapiireineen sekä karkottavan pahaa. Edelleenkin pihlaja usein istutetaan ensimmäiseksi uuteen asuinpaikkaan.
Halosenniemi avoinna
22.1.–30.4. ti–su klo 12–17
1.5.–5.5. ma–su klo 11–18
Share this with your friends!

Print version
Voit ostaa Museokortin tästä museokohteesta tai verkosta
Museum contact details

The Halosenniemi Museum, Tuusula Museum
Halosenniementie 4-6, 04310 Tuusula
040 314 3466, 040 314 3469
Admission fees
8/6/2 €
Payment methods
käteinen, yleisimmät pankki- ja luottokortit.
Opening hours
| | |
| --- | --- |
| Mon | Closed |
| Tue | 12:00-17:00 |
| Wed | 12:00-17:00 |
| Thu | 12:00-17:00 |
| Fri | 12:00-17:00 |
| Sat | 12:00-17:00 |
| Sun | 12:00-17:00 |
In summer 1.5.-31.8. Mon-Sun 11-18