14.11.2018–6.1.2019 NÄYTTELY/TAPAHTUMA PÄÄTTYNYT

Suomen Nukketaiteilijat loihtivat tänä jouluna Suomen käsityön museon Ikkunagalleriaan Jos metsään haluat mennä nyt… –tilateoksen. Tällä kertaa joulun perinteinen näyttely on rakennettu erityisesti lapsikatsojia ajatellen. Inhimillistämällä metsiemme eläimiä vaatetuksella ja ihmismäisellä käytöksellä syntyi monia hauskoja kohtauksia.
Kukin nukketaiteilija valmisti oman tapahtuman ja näistä koottiin näyttely. Teosten nimet kertovat jo näyttelyn sisällöstä, kuten "Kettu Kehveli ja Sammakka löivät vetoa hiihtotaidoistaan. Hävinnyt on toisen renkinä vuoden päivät" ja "Ratkirakastunut Tarmo kosii yllättäen metsässä Irmaa" sekä "Ottelu reviiristä". Eläinten tarinoille taustakehyksen luo Jussi Jäppisen kuvaama Laukaan Hitonhauta.
Näyttelyn ideointiin ja toteuttamiseen on osallistunut 13 Suomen Nukketaiteilijat ry:n jäsentä. Näyttely on jo 12. joulunäyttely, jonka Suomen Nukketaiteilijat ovat rakentaneet Suomen käsityön museon ikkunaan. Ikkunagallerian näyttelyä pääsee katsomaan maksutta ja kellon ympäri museon näyteikkunassa Kauppakatu 25.
Näyttelyn nukkien tekijät: Mirja Haikala, Arja Jäppinen, Lea Holmalahti, Pipsa Mannoja, Sirpa Ala-Louko, Helvi Laukkanen, Soile Aartiala, Ippa Särkkä, Aila Kytölä, Kirsti Rintamäki, Kati Haukkala, Inkeri Roivainen ja Minna Toivari.

Share this with your friends!

Print version
Voit ostaa Museokortin tästä museokohteesta tai verkosta
Museum contact details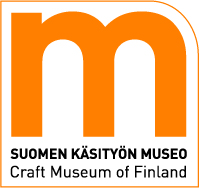 The Craft Museum of Finland
Kauppakatu 25, 40100 Jyväskylä
(014) 266 4370
Admission fees
6/3/0 €
Payment methods
visa, mastercard, museokortti, Smartum liikunta- ja kulttuuriseteli ja -saldokortti, Sportti&KulttuuriPassi, Tyky-kuntoseteli sekä Ticket Mind&Body ja Ticket Duo -kortti.
Opening hours
| | |
| --- | --- |
| Mon | Closed |
| Tue | 11:00-18:00 |
| Wed | 11:00-18:00 |
| Thu | 11:00-18:00 |
| Fri | 11:00-18:00 |
| Sat | 11:00-18:00 |
| Sun | 11:00-18:00 |
Free entry on Fridays. During summer 1.6.-31.8. Open Tue-Fri and Sun 11-18, Sat 11-16. Exceptions in opening times during the holidays. Further information about opening hours is available at: www.craftmuseum.fi/aukiolo.htm#poikkeavat_aukioloajat
Näyttelyn tekstit kielillä