16.12.2017–15.4.2018 NÄYTTELY/TAPAHTUMA PÄÄTTYNYT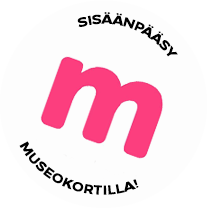 Exhibition
Sounds from Cigar Boxes
The Craft Museum of Finland presents cigar box guitars from Tommi Kuokkanen. The guitars are made by using different cigar boxes and other recycled material.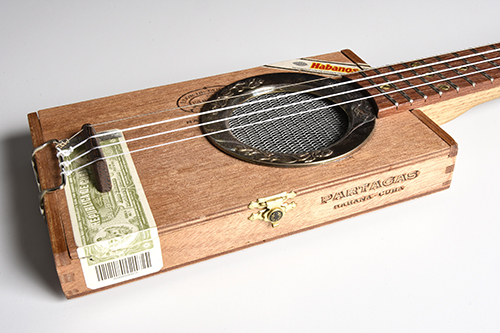 Voit ostaa Museokortin tästä museokohteesta tai verkosta
Kuokkanen saw pictures of cigar box guitars in the Internet and was inspired to build his first guitar in 2011. Cigar box guitars have been built as early as in the mid-19th century to substitute real and expensive chordophones. Today, the unique raw sound of the cigar box guitars attracts many musicians who seek to enrichen their music with the original tones of blues from the past. Cigar box guitars are also in connection with the do it yourself (DIY) culture. The instruments are inexpensive and fast to make and making them is often a good way to practice building instruments. In the exhibition, there are more than 20 guitars and the audience can listen to their unique sounds from the tape. In addition, the visitors can play with one of the guitars.
The cigar box guitar is a primitive chordophone that uses an empty cigar box as a resonator. It originates from the United States. The earliest instruments had one or two strings; the modern models usually have three or more. The neck of the guitar has often been made of an end of a broomstick or plank of wood, from where the strings are attached to the cigar box.
The roots of the cigar box instruments date back to the mid-19th century when cigar manufacturers started using smaller boxes instead of larger crates and barrels meant for transporting large quantities in ships or horse-drawn carts. The smaller packing size improved resale and soon the cigar boxes became a common sight in card game tables and saloons all over the West of America. The African slaves working in the plantations could not buy instruments and that is why they would make them out of discarded cigar boxes, broken broom handles, wires and twines.
Tommi Kuokkanen (b. 1977) from Jyväskylä is a locksmith. When young he tried playing guitar but was not completely satisfied with his skills. Growing up Kuokkanen explored blues music and especially the slide playing pleased him. In the Internet he saw pictures of cigar box guitars and believed to be able to build one himself. He finished his first cigar box guitar in 2011. It was made of metal and he built it in his friend's garage, the next one was wooden and built by the kitchen table. Nowadays he makes the guitars in his own workshop in the garage.

Share this with your friends!

Print version
Museum contact details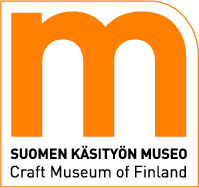 The Craft Museum of Finland
Kauppakatu 25, 40100 Jyväskylä
(014) 266 4370
Admission fees
6/3/0 €
Payment methods
visa, mastercard, museokortti, Smartum liikunta- ja kulttuuriseteli ja -saldokortti, Sportti&KulttuuriPassi, Tyky-kuntoseteli sekä Ticket Mind&Body ja Ticket Duo -kortti.
Opening hours
| | |
| --- | --- |
| Mon | Closed |
| Tue | 11:00-18:00 |
| Wed | 11:00-18:00 |
| Thu | 11:00-18:00 |
| Fri | 11:00-18:00 |
| Sat | 11:00-18:00 |
| Sun | 11:00-18:00 |
Free entry on Fridays. During summer 1.6.-31.8. Open Tue-Fri and Sun 11-18, Sat 11-16. Exceptions in opening times during the holidays. Further information about opening hours is available at: www.craftmuseum.fi/aukiolo.htm#poikkeavat_aukioloajat