Event
Babies´Colour Workshop goes ValotON
Babies' colour workshop is a multisensory visual art workshop for babies and families with babies.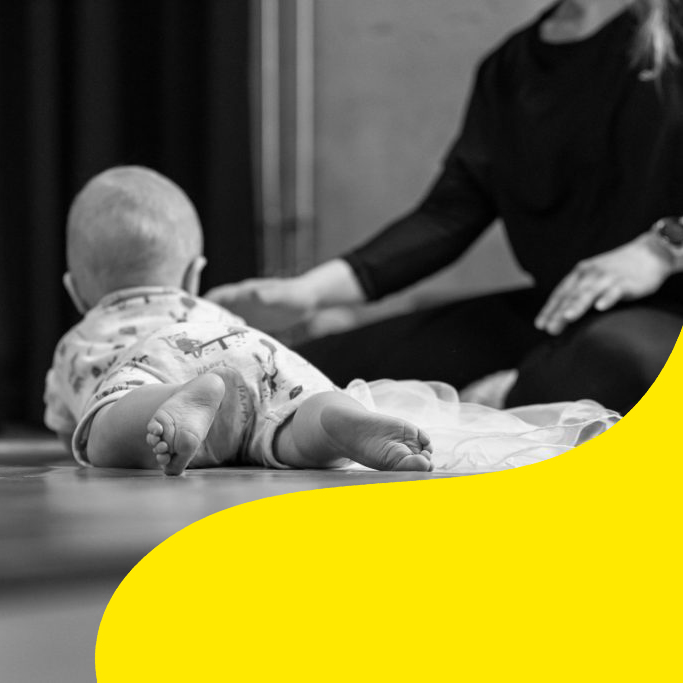 The main focus is on experiencing various colours and materials when a child and parent are doing and admiring things together. The activity is suitable for babies from 4 months old. Workshops are held at the workshop space Itikka. Colour workshops are offered to groups that come together several times and to individual quick-visit workshops. The language in the workshops is generally Finnish but the educator of the group also speaks English, so participating in English is possible. Sign up on the NetTicket online store.
The activity in the workshop happens on the floor. Each baby and adult have their own spot on the floor where the workshop instructor brings all the materials being used. The workshop begins with exploring different materials and colours, usually various types of objects together with the child. After that the painting starts. The paints are made of eatable materials like berries in different forms, fruits and vegetables starch, seeds and so on. The materials are chosen according to the official nutrition and food recommendations by the Finnish Food Authority.
For more information about the workshops, please read the following info text by the Pori Centre for Childrens' Culture Kruunupää.
The workshops are held around the year, usually from February to June and from September to November. Sign-up for the workshops at the NetTicket online store.The online store is in Finnish but you can contact the workshop instructor for more information.
Share this with your friends!
Museum contact details
Seinäjoki Art Hall
Taide- ja kulttuurikeskus Kalevan Navetta, Nyykoolinkatu 25, 60100 Seinäjoki
050 5143407
Yhteydet julkisilla
Näytä reitti museolle Matkahuollon reittioppaassa
Katso reitti Matkahuollon reittioppaassa
Päämäärä:
Seinäjoki Art Hall, Taide- ja kulttuurikeskus Kalevan Navetta, Nyykoolinkatu 25, 60100 Seinäjoki
Admission fees
6/4 €
Payment methods
Visa, Mastercard, Tyky+ ja Virike -setelit, Smartum, ePassi, Eazybreak ja Kaikukortti