9.1.2019–10.3.2019 NÄYTTELY/TAPAHTUMA PÄÄTTYNYT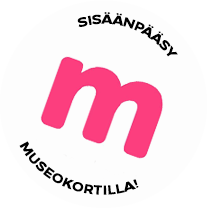 Exhibition
Sanna Vatanen – Virkatut moottorisahat 9.1.–10.3.2019
Sanna Vatasen näyttelyssä öljynkatkuiset ja raavaat moottorisahat pehmenevät helposti lähestyttäviksi tarinoiksi
Sulhaspoika, Vähäosainen, Jakkara-Jobu – tulisiko heti mieleen, että kyseessä on ihan oikeita moottorisahojen lempinimiä? Tai että moottorisaha voisi olla virkattu? Taiteilija, muotoilija ja käsityökirjailija Sanna Vatanen sai alun perin idean virkata luonnollisen kokoisia moottorisahoja metsätilaa hoitavalta mieheltään, jonka kanssa hän tapasi käydä ihastelemassa Suomen Metsämuseo Luston vanhan moottorisahaseinän sahoja: eräällä käyntikerralla mies kun tuumasi, että "sun pitäs joskus virkata moottorisaha".
Vatanen ihastui sahojen antiikkiseen ulkomuotoon ja kauniisiin yksityiskohtiin, vaikkakaan ne eivät heti innostaneet häntä tarttumaan virkkuukoukkuun. Hieman myöhemmin käsiin osunut hauska ja liikuttava artikkeli moottorisahojen lempinimistä herätti kuitenkin henkiin vanhan idean. Rakkaalla lapsella on monta nimeä ja niin on moottorisahoillakin: sahojen ulkomaankieliset nimet ovat savotoilla taipuneet moneen muotoon. Syntyi lopullinen tarina ja kehys virkkaamalla toteutetulle, veistosmaiselle näyttelylle, jonka kautta jokaisen on myös helppo tutustua sahojen hienoon historiaan. Vatasen muotoilemat, hieman erilaiset sahat ovat sellaisia joihin kuka tahansa – etenkin lapsi – voisi tarttua. Ja sahat hän nimesi, totta kai, niiden lempinimien mukaan.
Share this with your friends!

Print version
Voit ostaa Museokortin tästä museokohteesta tai verkosta
Museum contact details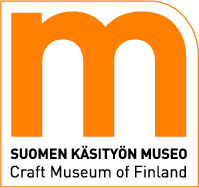 The Craft Museum of Finland
Kauppakatu 25, 40100 Jyväskylä
(014) 266 4370
Admission fees
6/3/0 €
Payment methods
visa, mastercard, museokortti, Smartum liikunta- ja kulttuuriseteli ja -saldokortti, Sportti&KulttuuriPassi, Tyky-kuntoseteli sekä Ticket Mind&Body ja Ticket Duo -kortti.
Opening hours
| | |
| --- | --- |
| Mon | Closed |
| Tue | 11:00-18:00 |
| Wed | 11:00-18:00 |
| Thu | 11:00-18:00 |
| Fri | 11:00-18:00 |
| Sat | 11:00-18:00 |
| Sun | 11:00-18:00 |
Free entry on Fridays. During summer 1.6.-31.8. Open Tue-Fri and Sun 11-18, Sat 11-16. Exceptions in opening times during the holidays. Further information about opening hours is available at: www.craftmuseum.fi/aukiolo.htm#poikkeavat_aukioloajat