Exhibition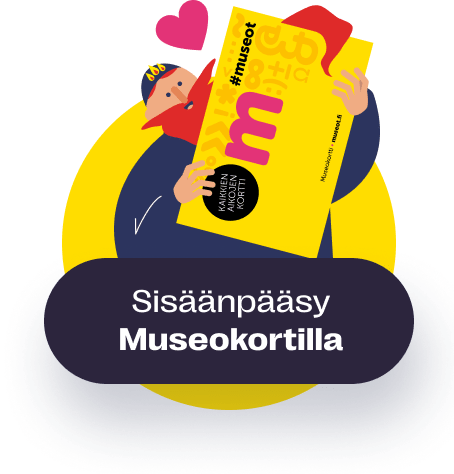 Folk of The River
The Aine Art Museum's new exhibition Folk of The River presents art and artists from the Tornio river valley.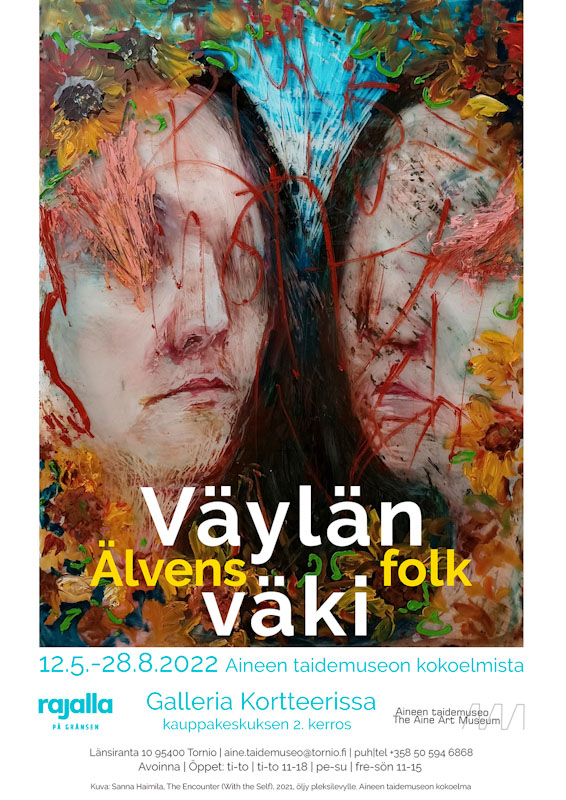 In 2022 The Aine Art Museum has spread its activities around Tornio while the museum building is under renovation. The summer exhibition Folk of The River takes place in the second floor of the shopping centre Rajalla and its gallery space Kortteeri.
In Finnish mythology, the word väki (people, folk) refers not only to the human inhabitants but also to the supernatural forces or entities contained in places or beings, making them powerful, magical. Water element was considered to contain plenty of väki, making it especially strong (väkevä). In Tornio river valley also the relationship between its inhabitants and the water element that dominates its environment can be seen as particularly powerful. This exhibition explores how the power of a place and its people can be mediated and experienced in art.
Folk of The River shows art works from the 1990s to today from the Aine Art Museum's collections – some of them have already become classics and some have never before been on display. In the works, people's relationships to each other and to their surroundings are being investigated in various ways. Many of the exhibition's artists have their roots in the soil of the Tornio river valley and the others are working in the area right now. Of course, the Tornio river is not only a fairway where the currents of influences derive from, but is just as much a receiver. This is why the exhibition also includes a selection of works originating from the shores of other northern waters that add something of their own to the theme.
One of the old masterpieces of Aine Pictorial Art Foundation's collection makes an exception to the exhibition's line up of contemporary art. Werner Holmbergs painting Midsummer Night in Tornio (ca. 1849) is included in the exhibition to remind us of the unique history of the area and the significance of art in the development of world views.
At the turn of the 18th and 19th centuries Tornio river valley was the stage of scientific measurements which investigated the size and shape of the globe. The landscape seen in Holmberg's painting has been depicted from the tower of Alatornio Church, which is also one of the triangulation points. These significant scientific observations were communicated via art to the rest of the world, and today Struve's Geodetic Arc is one of UNESCO's World Heritage Sites.
There is no admission fee to visit the exhibition. Welcome!
Share this with your friends!
Museum exhibitions
Osana kulttuurikierrosta
Museum contact details
The Aine Art Museum
Länsiranta 10, 95400 Tornio
+358 50 5946868
Yhteydet julkisilla
Näytä reitti museolle Matkahuollon reittioppaassa
Katso reitti Matkahuollon reittioppaassa
Päämäärä:
The Aine Art Museum, Länsiranta 10, 95400 Tornio
Admission fees
0/0 €
Payment methods
Käteinen, useimmat luotto- ja debit-kortit.
Opening hours
| | |
| --- | --- |
| Mon | Closed |
| Tue | 11:00-18:00 |
| Wed | 11:00-18:00 |
| Thu | 11:00-18:00 |
| Fri | 11:00-15:00 |
| Sat | 12:00-17:00 |
| Sun | 11:00-16:00 |
Opening times in the Midsummer weekend (from 23rd to 26th of June): Thursday: 11 am – 3 pm Friday, Saturday, Sunday: closed