The Section of Cultural History
15.1.2020–14.3.2020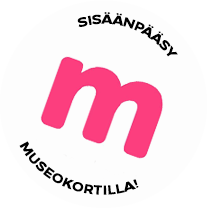 Exhibition
Näkymättömät asiantuntijat
Filmikameralla kuvattu projekti vie katsojan syvälle viittomakielisen ihmisen ytimeen.
Jussi Rinta-Hoiskan valokuvanäyttely Näkymättömät asiantuntijat esittelee 11 kuuroa, viittomakielistä ammattilaista. He ovat oman alansa asiantuntijoita, mutta maailman silmissä he voivat kuuroutensa vuoksi olla näkymättömiä.
Idea näyttelystä lähti liikkeelle Jussi Rinta-Hoiskan kuvattua Kuurojen Maailmanliiton kunniapresidenttiä, YK:n ihmisoikeuspalkinnon saanutta Liisa Kauppista. Tavallisuuden tunnelmaa viestivillä valokuvillaan Rinta-Hoiska haluaa kertoa, että kuuron elämä voi olla yhtä tavallista kuin kuulevankin, ja heille kaikki on mahdollista samoin kuin kenelle tahansa.
Jussi Rinta-Hoiska käytti näyttelynsä valokuviin filmikameraa, koska pitää filmikuvausta haastavampana kuin digikuvausta mm. siksi, että jokainen kuva pitää suunnitella tarkkaan ennen kuin painaa laukaisijaa. Lopputuloksen näkee vasta sitten kun kuvat on kehitetty.
Näyttely on esillä Jyväskylän yliopiston tiedemuseon Näyttelykeskus Soihdun vaihtuvien näyttelyiden tilassa Seminarium-rakennuksessa.
Näyttelykeskus Soihtu on avoinna ke-pe klo 12–17, la klo 12–16. Vapaa pääsy.
Share this with your friends!

Print version
Museum contact details
The Section of Cultural History
Seminaarinmäki, rakennus S, 40100 Jyväskylä
040 805 4579
Admission fees
Vapaa pääsy.
Opening hours
| | |
| --- | --- |
| Mon | Closed |
| Tue | Closed |
| Wed | 12:00-17:00 |
| Thu | 12:00-17:00 |
| Fri | 12:00-17:00 |
| Sat | 12:00-16:00 |
| Sun | Closed |