2.11.2019–29.3.2020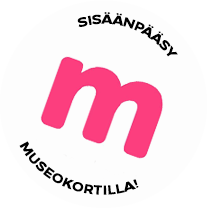 Exhibition
Suomalaisuuden kirjopukineet 2.11.2019–29.3.2020
Kansallispukuja ja muinaisia tarinapaikkoja Anssi Toivaisen valokuvissa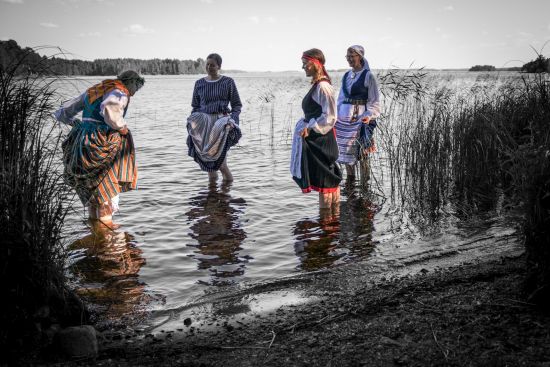 Viime vuosituhannen alun matkailujulisteissa nuoret neitoset koreilivat kansallispuvuissa suomalaisissa jylhissä maisemissa. Miksei se sopisi nykyäänkin, kun luonnon ja käsillä tekemisen arvostus on nousussaan? Valokuvaaja Anssi Toivanen vei kansallispukuiset mallit Keski-Suomen sekä Etelä- ja Pohjois-Savon henkeäsalpaaviin maisemiin.
Leppävirtalainen Anssi Toivanen sai idean näyttelyyn jo alkusyksystä 2017. Toivasen puolison, Anna Kaisa Piispasen kaappiin oli kesän mittaan kertynyt erilaisia kansallispukuja ja niiden osia, joita hän oli perinyt, saanut lahjoituksena ja ostanut. Piispanen yhdisteli kansallispukujen osia eri asukokonasuuksiin "tuunaa mun perinne" -hengessä ja valmisti tavallisista kankaista liivejä ja hameita kansallispukujen kaavoja hyödyntäen. Toivasen mieleen syttyi ajatus kansallispukujen yhdistämisestä omaan valokuvausharrastukseen.
- Jostain mieleeni putkahti 1900-luvun alun piirretyt kansallisromanttiset matkailujulisteet, joissa nuoret neitoset koreilivat kansallispuvuissa jylhissä kansallismaisemissa. Mietin että miksei nykyäänkin? Siitä idea viedä kansallispukuiset mallit Keski-Suomen sekä Etelä- ja Pohjois-Savon hienoihin ja erityisiin maisemiin, Anssi Toivanen kuvaa.
Näyttelyssä on nähtävillä läpileikkaus valokuvausprojektin kuvista – mahdollisimman monta erilaista kansallispukua ja kuvauspaikkaa. Kuvapaikoista on eniten edustettuna Laukaan Saraakallio, jossa mallejakin oli eniten. Saraakallio on Fennoskandian suurin kalliomaalausalue yli 200 maalauskuviolla.

Share this with your friends!

Print version
Voit ostaa Museokortin tästä museokohteesta tai verkosta
Museum contact details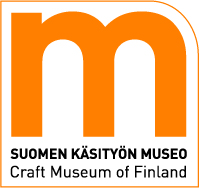 The Craft Museum of Finland
Kauppakatu 25, 40100 Jyväskylä
(014) 266 4370
Admission fees
8/6/4/0 €
Payment methods
visa, mastercard, museokortti, Smartum liikunta- ja kulttuuriseteli ja -saldokortti, Sportti&KulttuuriPassi, Tyky-kuntoseteli sekä Ticket Mind&Body ja Ticket Duo -kortti.
Opening hours
Valtioneuvoston päätöksen mukaisesti valtion ja kuntien museot ovat suljettuina 13. huhtikuuta saakka. Yksityisen ja kolmannen sektorin toimijoiden suositellaan toimivan samoin.