14.6.2019–25.8.2019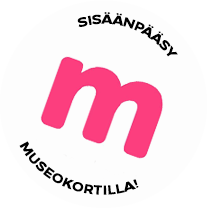 Exhibition
Tuomas A. Laitinen: Habitat Cascade
The exhibition Habitat Cascade is a new installation environment by artist Tuomas A. Laitinen, carrying on his research into multispecies cohabitation.
In Habitat Cascade the soundscape, bouncing along the walls, hits the visitor and disperses into the space like a cloud of spores. The magenta-hued daylight filtering into the room creates a science fiction-like atmosphere. Included in the environment are glass sculptures fabricated for the octopuses, their gliding forms thought to accommodate the arms of molluscs. The cognition of the octopus combined with the masterful movement of its arms has inspired the artist to develop a suggestive, tentacular glass-script. The aim of this body of work is not to present any finite truths about interspecies communication. It is more intended to suggest ways of discovering alternative forms of communication. The exhibition is also concerned with the power structures attendant to the formation of knowledge that inevitably reveal themselves when researching other lifeforms.
Tuomas A. Laitinen's works have been widely exhibited internationally, for example at the 21st Sydney Biennale, the 7th Bucharest Biennale, at SADE L.A. (Los Angeles), Amado Art Space (Seoul), Moving Image (New York), Art Sonje Center (Seoul), MOCA (Shanghai), Cinemateca do MAM (Rio de Janeiro) and in various exhibition contexts in Finland.
Share this with your friends!

Print version
Voit ostaa Museokortin tästä museokohteesta tai verkosta
Museum contact details

Wäinö Aaltonen Museum of Art
Itäinen Rantakatu 38, Turku
(02) 262 0850
Admission fees
10/5/4 €

Payment methods
Käteinen, yleisimmät pankki- ja luottokortit. Smartum-, TYKY- ja Virike-kulttuurisetelit.
Opening hours
| | |
| --- | --- |
| Mon | Closed |
| Tue | 10:00-18:00 |
| Wed | 10:00-18:00 |
| Thu | 10:00-18:00 |
| Fri | 10:00-18:00 |
| Sat | 10:00-18:00 |
| Sun | 10:00-18:00 |
Closed 19.4., 1.5., 21.–23.6., 6.12., 24.–25.12., 31.12.–1.1. Open 20.6. 10:00–15:00.