6.9.2019–6.10.2019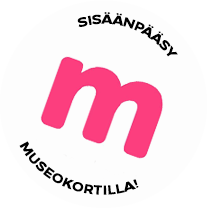 Exhibition
Ihmisiä harjulla – Punkaharjun hovikuvaaja Anni Hemminkinen
Valokuvaaja Anni Hemminkinen (1879–1966), "Hemminkisen neiti", tunnettiin kiertävänä valokuvaajana Punkaharjulla. Anni ikuisti kuviinsa paikkakuntalaisia erityisesti harjualueella, Laukansaaressa, Tuunaansaaressa, Vaahersalossa, Pöllänsaaressa ja Punkasalmella.
Usein kuvattavat poseerasivat ulkona, luonnon helmassa. Näyttelyssä on esillä noin 50 valokuvaa, yhteensä 614 lasinegatiivin kokoelmasta.
Hemminkisen ottamat kuvat ajoittuvat vuosille 1915–1950. Ura punkaharjulaisten "hovikuvaajana" loppui kotitalon ja kuvauskaluston paloon noin 1950-luvun alussa.
Anni Hemminkisen lasinegatiivit, joista näyttelyn kuvat on valittu, "löytyivät" kaksi kertaa. Ensimmäiset lasinegatiivit otti talteen alun perin rouva Helmi Kanerva punkaharjulaisen metsäteknikon talon aitan kivijalasta. Kanerva tallensi aktiivisesti kotiseutunsa historiaa ja oli myös muuten hankkinut Hemminkisen negatiiveja.
Vuonna 2010 Helmi Kanervan poika Nuutti Kanerva "löysi" edesmenneiden vanhempiensa eläkekodista osan näistä lasinegatiiveista. Vuonna 2015 hän aloitti negatiivien tunnistustyön. Sattumien ja etsintöjen jälkeen loputkin negatiivit löytyivät eläkekodin lisäksi Savonlinnan maakuntamuseosta.
Näyttelyn on tuottanut Suomen Metsämuseo Lusto osana Punkaharjun kulttuuriseura ry:n kolmivuotista Kotiseutuna kansallismaisema -hanketta (2017–2019), jota rahoittaa Piällysmies ry.
Share this with your friends!

Print version
Voit ostaa Museokortin tästä museokohteesta tai verkosta
Museum contact details

Savonlinna Provincial Museum
Riihisaari, 57130 Savonlinna
044 417 4466
Admission fees
8/4/5/0 €
Payment methods
käteinen, yleisimmät pankki- ja luottokortit.
Opening hours
| | |
| --- | --- |
| Mon | 10:00-17:00 |
| Tue | 10:00-17:00 |
| Wed | 10:00-17:00 |
| Thu | 10:00-17:00 |
| Fri | 10:00-17:00 |
| Sat | 10:00-17:00 |
| Sun | 10:00-17:00 |
Attention! The Museum Riihisaari will be closed from October 2019 due to renovation for some time. Services and museum´s functioning do not stop, they will continue temporarily in another space. More information later.
Näyttelyn tekstit kielillä