Museum of Finnish Architecture
6.3.2019–2.6.2019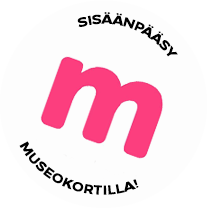 Exhibition
Radical Theatre
Finnish architect P.E. Blomstedt designed a theatre for Hakaniemi Square exemplifying the most radical contemporary ideas about theatrical reform.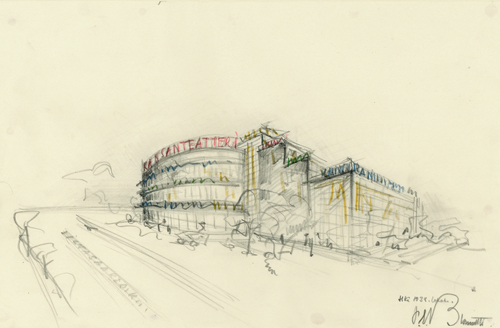 His modern 'People's Theatre' was never built, but the original drawings are preserved in the Museum of Finnish Architecture's archives.
Last autumn the MFA personnel sat down with architecture students from Aalto University to think of innovative ways of utilizing the museum's collections. As an outcome of their brainstorming, they planned this exhibition presenting the People's Theatre, an unrealized project by P. E. Blomstedt (1900–1935) from 1935. In planning the exhibit, the students gave special thought to new ways of presenting architecture and the various creative forms that an architecture exhibition can take.
P.E. Blomstedt came from a well-known family of architects originating from the town of Jyväskylä in central Finland. Both his father Yrjö and his brother Aulis were also architects. Blomstedt's career coincided with a stylistic transition from Nordic Classicism to modernism.
P.E. Blomstedt drew inspiration from Bauhaus founder Walter Gropius and radical theatre director Erwin Piscator, who aspired to draw in the audience as part of the performance by reinventing the conventional layout of a theatre.
Blomstedt's proposal, too, would have enabled experimentation with new staging concepts. The stage, sets and stalls could be moved mechanically, allowing the entire space to be utilized by the actors. Performances were to have been enlivened with films, lighting effects, projections and advanced technical solutions for music and sound effects. The giant glass wall allowed the external space to be linked and used for performances. As the stage was on the ground floor, actors could even drive a car directly onto the set.
The theatre was never built, however. It has been conjectured that this may have been due to political controversy or the sudden withdrawal of financiers. Blomstedt's death in November 1935 marked the final demise of the plan, depriving Helsinki of what would have been "the world's most modern theatre".
Share this with your friends!

Print version
Voit ostaa Museokortin tästä museokohteesta tai verkosta
Museum contact details

Museum of Finnish Architecture
Kasarmikatu 24, 00130 Helsinki
+358 45 7731 0474
Admission fees
10/5/0 €. Yhteislippu Designmuseon kanssa 12 €. Museokortti.
Payment methods
Käteinen, useimmat luotto- ja debit-kortit.
Opening hours
| | |
| --- | --- |
| Mon | Closed |
| Tue | 11:00-18:00 |
| Wed | 11:00-20:00 |
| Thu | 11:00-18:00 |
| Fri | 11:00-18:00 |
| Sat | 11:00-18:00 |
| Sun | 11:00-18:00 |