8.2.2019–19.5.2019 NÄYTTELY/TAPAHTUMA PÄÄTTYNYT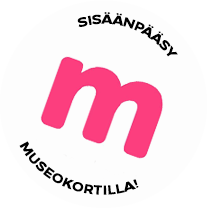 Exhibition
Magritte: Life Line
In spring 2019, Amos Rex will be showing the works of the Belgian painter René Magritte (1898-1967) for the first time in Finland.
Magritte, who is considered a leading figure in Surrealism, is particularly known for his works that turn everyday reality upside down; an apple fills a whole room and a nose becomes a pipe. The familiar is suddenly bafflingly strange.
The goal of Magritte's various surrealistic periods was to solve the enigma of being human – Magritte sought an answer to the universal question of humanity through his art. He probed everyday reality in an attempt to grasp the mysteries hidden within.
The exhibition puts the artist himself centre stage: it is constructed around Magritte's Life Line lecture, given in Antwerp in 1938. This was one of the rare occasions when the inscrutable artist revealed his working methods and artistic motivations. Magritte had otherwise always refused to explain his works, which gave glimpses of what "the mystery of the world" might look like in pictorial form.
The works on display give a multi-faceted view of the development of Magritte's working process in different periods. The phases of Magritte's life and his ideas lend wings to this journey through the artist's chequered career, right from the early days of Surrealism to his "Vache period". Besides the visual arts, the supplementary programme for this exhibition by the cinephile artist also extends to Bio Rex's silver screen in the guise of the silent film serial Fantômas by Louis Feuillade.
The exhibition is realised in collaboration with the MASI, Museo d'arte della Svizzera Italiana in Lugano, Switzerland. The curators are two Belgian Surrealism experts: Director of the Musée de la Photographie à Charleroi, Xavier Canonne; and art historian Julie Waseige.
Share this with your friends!

Print version
Voit ostaa Museokortin tästä museokohteesta tai verkosta
Museum contact details
Amos Rex
Mannerheimintie 22-24
Admission fees
15/12/5 €
Payment methods
Käteinen sekä kaikki yleisimmät maksukortit.
Opening hours
| | |
| --- | --- |
| Mon | 11:00-18:00 |
| Tue | Closed |
| Wed | 11:00-20:00 |
| Thu | 11:00-20:00 |
| Fri | 11:00-18:00 |
| Sat | 11:00-17:00 |
| Sun | 11:00-17:00 |