The Finnish Museum of Photography
16.1.2019 (17.30–18.30) NÄYTTELY/TAPAHTUMA PÄÄTTYNYT

Event
Purku-klubi: Alaston omakuva -ilta
Keskustelutilaisuudessa käsitellään alastomuutta, joka on askarruttanut, hätkähdyttänyt ja kiihdyttänyt kävijöitä syksyn ja talven näyttelyissä.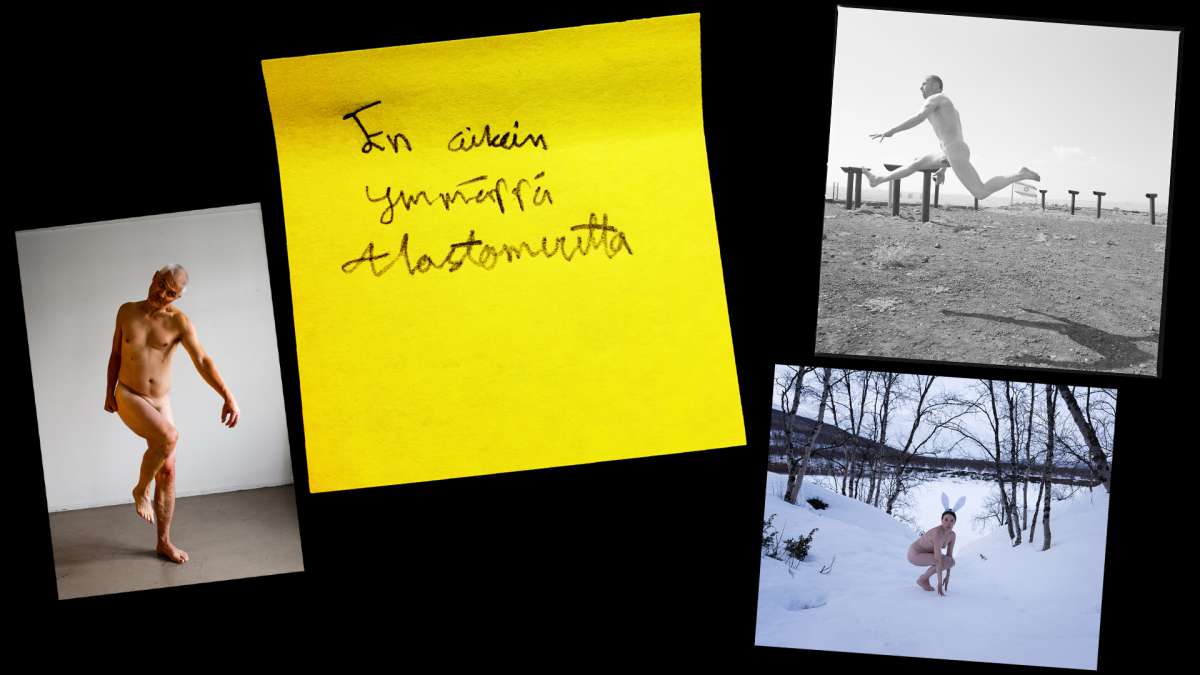 Voit ostaa Museokortin tästä museokohteesta tai verkosta
- Liikaa nakuja!
- Ihmisen alaston vartalo ei ole kovin kaunista katseltavaa.
- Kuka haluaa enää kuvata itseään alasti?
Alastomuus on ollut vakioaiheena Valokuvataiteen museon näyttelyiden palauteseinällä syksyn ja talven näyttelyiden aikana.

Puhututtavan aiheen tiimoilta Valokuvataiteen museon Purku-klubissa järjestetään Alaston omakuva -keskusteluilta keskiviikkona 16.1.2019 klo 17.30–18.30.
Keskustelu käydään suuressa näyttelytilassa. Tapahtumaan osallistuminen museon pääsymaksulla tai museokortilla.
Keskusteluillassa ovat mukana suuren näyttelytilan Ideaalin perilliset -näyttelyn taiteilijat, kuvissaan alastomina kameran eteen asettuneet Marja Helander, Harri Pälviranta ja Kari Soinio. Oman kulmansa keskusteluun tuovat Turun yliopiston taidehistorioitsija Johanna Frigård sekä museon kuvataidepedagogit Aapo Raudaskoski ja Jemina Lindholm.
Tutkija Johanna Frigård on tarkastellut väitöskirjassaan 1900-luvun alkupuolella julkisuuteen sallittujen alastonvalokuvien ideaaleja. Kuvataidepedagogit Aapo Raudaskoski ja Jemina Lindholm ovat vetäneet Valokuvataiteen museon queer/crip -opastuksia, jotka pohjautuvat kriittiseen vammaistutkimukseen sekä queer-teoriaan.
Keskusteluillan aikana pureudumme siihen, mikä alastomuudessa järkyttää ja puhututtaa? Kuka saa esiintyä kuvassa alasti? Millaisia merkityksiä alaston vartalo voi valokuvateoksessa saada? Miten alastomuus kytkeytyy taidehistorian jatkumoon ja minkälaisia ideaaleja sen kautta viestitään? Miten eri sukupolvet suhtautuvat alastomuuteen taiteessa?
Tule mukaan keskusteluun ja esitä omat kysymyksesi!
Purku-klubi on keskustelusarja ajankohtaisista ja mieltä kiihottavista kuvallisista ilmiöistä. Klubi pidetään aina Valokuvataiteen museon näyttelyiden keskellä. Kuvien purkamisen ja ilmiöihin pureutumisen mielikuvat saavat kehykset museon näyttelytilasta. Keskustelutilaisuuden jälkeen yleisöllä on mahdollisuus tutustua rauhassa näyttelyyn.
Purku-klubille museon pääsymaksu, museokortilla vapaa pääsy.
Share this with your friends!

Print version
Museum contact details

The Finnish Museum of Photography
Kaapelitehdas, Tallberginkatu 1 G, 00180 Helsinki
(09) 6866 3621
Admission fees
10/5/0 €. Museokortilla ilmainen sisäänpääsy.
Payment methods
käteinen, kaikki yleisimmät pankki- ja luottokortit, Museokortti, kulttuurisetelit
Opening hours
| | |
| --- | --- |
| Mon | Closed |
| Tue | 11:00-18:00 |
| Wed | 11:00-20:00 |
| Thu | 11:00-18:00 |
| Fri | 11:00-18:00 |
| Sat | 11:00-18:00 |
| Sun | 11:00-18:00 |
Free admission on every last Wednesday of the month, 5 to 8 pm.