10.5.2019–27.10.2019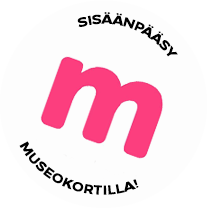 Exhibition
Himoitut helmet – Kansallispukukeräilijän kokoelmasta 10.5.-27.10.2019
Suomen suurimman yksityisen kansallispukukokoelman keränneen Mari Varosen rakkaimmat puvut.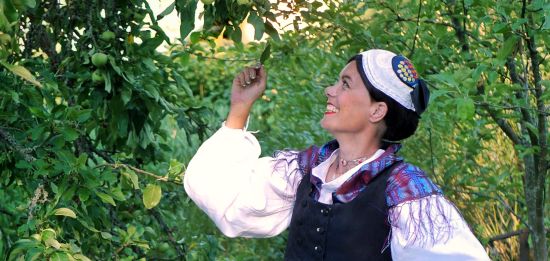 Mari Varonen pukeutui kansallispukuun ensimmäistä kertaa syksyllä 2015. Se oli rakkautta ensi silmäyksellä ja käynnisti keräilyharrastuksen. Tällä hetkellä Varosen kokoelmassa on yli 200 suomalaista kansallispukua. Suomen kansallispukukeskuksen näyttelytila Kujalla on 10.5.–27.10.2019 esillä seitsemän pukua sekä puvun osia – Varosen kokoelman helmiä.
Kansallispukukokoelman puvut ovat peräisin 1800-luvulta 2010-luvulle ja niissä näkyvät ajan henki ja muotivirtaukset, kuten muissakin vaatteissa. Näyttelyssä on esillä Varosen kokoelman vanhin puku eli Houtskarin kansallispuku sekä uusimpana vuodelta 2018 Jaalan kansallispuku, joka Varosen ensimmäinen itse ompelema kansallispuku. Kokonaisten pukujen valmistamisen ohella Varonen harrastaa kokoelmansa pukujen kunnostamista ja täydentämistä ompelemalla niistä puuttuvia osia, joista esimerkkinä näyttelyssä on Ähtärin korvamyssy.
Kokoelman pukuihin liittyy monenlaisia tarinoita ja historioitsijana Mari Varonen pyrkii selvittämään pukujensa taustat. On pukuja, joita on käytetty vain kerran, mutta on myös pukuja, jotka ovat olleet kovassa käytössä ja kiertäneet maailmalla. Näyttelyssä on esillä ahvenanmaalainen Lemlandin kansallispuku 1920-luvulta, joka matkasi omistajansa kanssa eurooppalaisilla laulujuhlilla useaan otteeseen jo 1930- ja 1940-luvuilla, mutta jatkoi elämäänsä myös seuraavien sukupolvien pukuna aina näihin päiviin asti.

Share this with your friends!

Print version
Voit ostaa Museokortin tästä museokohteesta tai verkosta
Museum contact details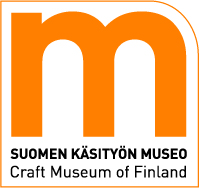 The Craft Museum of Finland
Kauppakatu 25, 40100 Jyväskylä
(014) 266 4370
Admission fees
6/3/0 €
Payment methods
visa, mastercard, museokortti, Smartum liikunta- ja kulttuuriseteli ja -saldokortti, Sportti&KulttuuriPassi, Tyky-kuntoseteli sekä Ticket Mind&Body ja Ticket Duo -kortti.
Opening hours
| | |
| --- | --- |
| Mon | Closed |
| Tue | 11:00-18:00 |
| Wed | 11:00-18:00 |
| Thu | 11:00-18:00 |
| Fri | 11:00-18:00 |
| Sat | 11:00-18:00 |
| Sun | 11:00-18:00 |
Free entry on Fridays. During summer 1.6.-31.8. Open Tue-Fri and Sun 11-18, Sat 11-16. Exceptions in opening times during the holidays. Further information about opening hours is available at: www.craftmuseum.fi/aukiolo.htm#poikkeavat_aukioloajat