5.1.2018 (18-20) NÄYTTELY/TAPAHTUMA PÄÄTTYNYT

Event
Avajaiset: Memento - Ulla Pohjola ja Kaija Poijula
Tervetuloa avaamaan kanssamme Ulla Pohjolan ja Kaija Poijulan Memento -näyttelyä.
Vuoden 2018 aloittava näyttely koostuu kahdesta yksityisnäyttelystä, joiden tekijöinä ovat kuvataiteilijat Ulla Pohjola ja Kaija Poijula. Pohjola ja Poijula ovat tarinankertojia. Teoksillaan he kuvittavat sisäistä maailmaansa.
Näyttelyn avaa kriitikko Hannu Castrén.
Avajaiset ovat kaikille avoimet.
Share this with your friends!

Print version
Museum contact details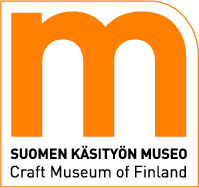 The Craft Museum of Finland
Kauppakatu 25, 40100 Jyväskylä
(014) 266 4370
Admission fees
6/3/0 €
Payment methods
visa, mastercard, museokortti, Smartum liikunta- ja kulttuuriseteli ja -saldokortti, Sportti&KulttuuriPassi, Tyky-kuntoseteli sekä Ticket Mind&Body ja Ticket Duo -kortti.
Opening hours
| | |
| --- | --- |
| Mon | Closed |
| Tue | 11:00-18:00 |
| Wed | 11:00-18:00 |
| Thu | 11:00-18:00 |
| Fri | 11:00-18:00 |
| Sat | 11:00-18:00 |
| Sun | 11:00-18:00 |
Free entry on Fridays. During summer 1.6.-31.8. Open Tue-Fri and Sun 11-18, Sat 11-16. Exceptions in opening times during the holidays. Further information about opening hours is available at: www.craftmuseum.fi/aukiolo.htm#poikkeavat_aukioloajat